PrepLess Veneers
Dr. Susan Hollar has always been at the forefront of dental innovations. Utilizing one of the few in-house dental laboratories in the country, Dr. Hollar has developed some of the most advanced dental restorations in the world today. The no-prep veneer allows Dr. Hollar to create incredibly thin veneers that require absolutely no tooth structure removal! Unlike a similar product, Dr. Hollar's no-prep veneer is built with artistic layers and colors that mimic a real tooth, as opposed to the single colored product. The resulting restoration is very natural, lifelike, and incredibly strong. In fact, the no-prep porcelain veneer is so strong, we offer a World-Class Porcelain Warranty that provides free replacement for ten years in case of breakage.
Many patients are uneasy and apprehensive about enamel and tooth removal, especially when the tooth has healthy enamel remaining. No-prep veneers offer the conservatism of composite bonding while delivering the durability and beauty of Porcelain Veneers. The very thin veneer bonds directly to healthy tooth enamel with no tooth reduction and, in many cases, no anesthesia. This type of veneer is especially useful in cases where the teeth are too small because of advancing wear or genetics.
Visit our photo gallery to see our unbelievable results. If you have questions about no-prep veneers, please contact The Art of Dentistry for more information.
Related PrepLess Porcelain Veneer Articles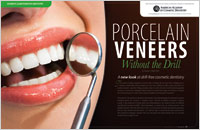 Porcelain Veneers – Without A Drill
No drilling — reality or ridiculous? A no-drill technique requires a second look, as new materials and concepts have created new esthetic possibilities. Reactions and opinions among dentists have ranged from absolute disbelief to moderate acceptance. This article gives hope and reasons for patients to get excited about this conservative drill-free cosmetic technique… Read Article