Porcelain Veneers
Porcelain Veneers are the flagship procedure in cosmetic and restorative dentistry. Their success can be traced to NASA and the space shuttle program in the late 1970s. When NASA had trouble with missing tiles upon re-entry, they developed the method of bonding the porcelain tiles to the undercarriage. The bonding technology was adapted to dentistry and has allowed us to bond porcelain veneers directly to the tooth surface without an underlying metal substructure. The chemical bond creates an amazingly sturdy restoration, which is as strong as natural tooth structure and one that will not stain. Dr. Hollar has specialized training in the advanced porcelain veneer bonding technology that has allowed her to successfully place over 20,000 of these restorations. The porcelain veneer is so incredibly strong, we offer a World-Class Porcelain Warranty that provides free replacement for ten years in case of breakage.
Dr. Hollar is recognized as an accredited dentist by the AACD (American Academy of Cosmetic Dentistry) and is one of fewer than 320 dentists worldwide to reach this level of achievement. She is also an instructor at the prestigious Scottsdale Center for Dentistry and The Pankey Institute in Key Biscayne, Florida, where she teaches other dentists advanced porcelain veneer techniques.
Porcelain veneers can be very thin (as thin as a fingernail), allowing for minimal or no tooth reduction, and, in some cases, may require no anesthesia. This minimally invasive preservation of the strong enamel tooth structure provides for a longer-lasting restoration. The semi-translucent veneer can be made to match the light-transmitting properties of natural teeth, and being metal-free, eliminates the hated "black" marginal line found around many traditional porcelain-fused-to-metal crowns. Exquisite natural aesthetics are achieved with these restorations, most often used to close spaces, replace worn enamel, repair broken or chipped teeth, reshape crooked or misaligned teeth, and cover permanently stained or discolored teeth. Porcelain veneers or onlays are also used on back teeth, and are our preferred conservative method to restore broken molar teeth or to replace large mercury silver fillings. Our porcelain veneers and onlays appear as natural teeth, totally invisible.
Visit our photo galleries to see our unbelievable results. If you have questions about porcelain veneers, please contact The Art of Dentistry for more information.
Related Porcelain Veneers Articles
Smile Design Enhanced with Porcelain Veneers
In part two of the series on Smile Design, Dear Doctor takes an in-depth look at Porcelain Veneers, a superior yet minimally invasive technique for smile enhancement. We'll explain not only when they're appropriate, but also when they're not… Read Article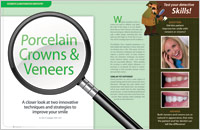 Porcelain Crowns & Veneers
A closer look at two innovative techniques and strategies to improve your smile. In many instances these two restorative techniques can produce nearly identical esthetic results, even though they are structurally different… Read Article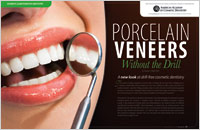 Porcelain Veneers – Without A Drill
No drilling — reality or ridiculous? A no-drill technique requires a second look, as new materials and concepts have created new esthetic possibilities. Reactions and opinions among dentists have ranged from absolute disbelief to moderate acceptance. This article gives hope and reasons for patients to get excited about this conservative drill-free cosmetic technique… Read Article