Crowns
Crowns or "caps" are traditional and commonly used restorations in dentistry today. Because the enamel has to be completely removed for a crown or "cap," the stronger and more conservative onlay or porcelain veneer restoration is generally the treatment of choice whenever possible. However, when teeth are badly broken, extensively decayed, or simply in need of replacing existing caps, crowns are the treatment of choice. Crowns can be made of all porcelain, porcelain fused to gold, porcelain fused to zirconium, or all gold. The best crown material is often determined by an individual's bite and aesthetic considerations. All of our crown work is backed by our Ten-Year World-Class Warranty.
Dr. Hollar has extensive training and experience in crown placement and has successfully placed thousands of these restorations since 1981. Like our Porcelain Veneers, these restorations are very durable and resistant to stain. To view more examples of our work, please visit our photo galleries.
For questions about crowns, please contact The Art of Dentistry for more information.
Related Dental Crown Articles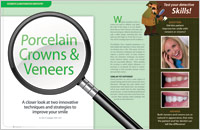 Porcelain Crowns & Veneers
A closer look at two innovative techniques and strategies to improve your smile. In many instances these two restorative techniques can produce nearly identical esthetic results, even though they are structurally different… Read Article
Value Of Quality Care
Are all crowns created equal? One of the most important factors adding to cost is the quality of the crown itself. Another fact is that dentists generally sub-contract out crown manufacturing to a dental laboratory technician, as they rarely make crowns themselves… Read Article
Creating In-Office Dental Restorations With Computers
Once upon a time, dentists – and patients – needed to wait weeks for a dental laboratory to make crowns and other dental restorations. Now, with an exciting digital technology known as Computer-Aided Design/Computer-Aided Manufacturing (CAD/CAM), some dentists are fabricating high-quality restorations themselves right in their own offices – in minutes! Read Article